Lake Edge Lane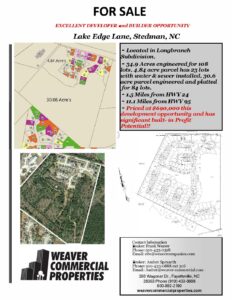 Sale Details:
Price: $690,000
Property Type:
Lot
Property Subtype(s):
Proposed Use:
Sale Type:
Lot size: 34.9 Acres
Year Built:
Construction Status:
-Located in Longbranch
-34.9 Acres engineered for 108 lots. 4.84 acre parcel has 23 lots with water & sewer installed. 30.6 acre parcel engineered and platted for 84 lots.
1.5 Miles from HWY 24
11.1 Miles from HWY 95
Priced at $690,000 this development opportunity and has significant built- in Profit Potential.
Agent:
Frank Weaver •
Phone:
9104330888 •
Email:
efw@weavercompanies.com